| | |
| --- | --- |
| | Preventive Dentistry |




Dr. Tooth and Associates
123 Main Street
Anytown, NY 20317
USA
(212) 555-4321
(212) 555-1234 fax

Send Us

E-mail

© Copyright 2011
Dr. Tooth and Associates
powered by Website2Go.com
All Rights Reserved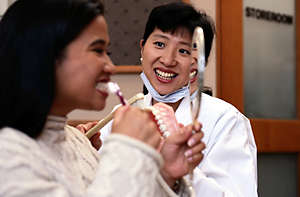 Maintaining good dental health
Every patient [even denture patients] needs to be seen at least once a year, and the vast majority of patients should visit their dentist two to four times a year. Studies show that calculus [tartar] begins to accumulate on tooth surfaces between 90 and 120 after professional cleaning. Many patients benefit from professional cleanings that are more frequent than every six months, especially those who don't floss daily.

Facts on Brushing
What is the best technique for brushing? There are a number of effective brushing techniques. Patients are advised to check with their dentist or hygienist to determine which is the best one for them since tooth position and gum condition vary. One effective, easy-to-remember technique involves using a circular or elliptical motion to brush a couple of teeth at a time, gradually covering the entire mouth. Place a toothbrush beside your teeth at a 45-degree angle and gently brush teeth in an elliptical motion. Brush the outside of the teeth, inside the teeth, your tongue and the chewing surfaces and in between teeth. Using a back and forth motion causes the gum surface to recede, or can expose the root surface or make the root surface tender. You also risk wearing down the gum line.

Soft or hard bristles?
In general, a toothbrush head should be small (1" by 1/2") for easy access. It should have a long, wide handle for a firm grasp. It should have soft, nylon bristles with round ends. Some brushes are too abrasive and can wear down teeth. A soft, rounded, multi-tufted brush can clean teeth effectively. Press just firmly enough to reach the spaces between the teeth as well as the surface. Medium and hard bristles are not recommended.

How long should I brush?
It might be a good idea to brush with the radio on, since dentists generally recommend brushing 3-4 minutes, the length of an average song. Using an egg timer is another way to measure your brushing time. Patients generally think they're brushing longer, but most spend less than a minute brushing. To make sure you're doing a thorough job and not missing any spots, patients are advised to brush the full 3-4 minutes twice a day instead of brushing quickly five or more times through the day.

Should I brush at work?
Definitely, but most Americans don't brush during the workday. Dentists say it's a good idea to keep a toothbrush in your desk, which increases the chances that you'll brush during the day by 65 percent, according to a recent survey released by Oral-B Laboratories and the Academy of General Dentistry. Getting the debris off teeth right away stops sugary snacks from turning to damaging acids, and catches starchy foods like potato chips before they turn to cavity-causing sugar. If you brush with fluoride toothpaste in the morning and before going to bed, you don't even need to use toothpaste at work. You can just brush and rinse before heading back to the desk. If you don't have a toothbrush, rinsing your mouth with water for 30 seconds after lunch also helps.

The following tips may improve your work-time brushing habits:
Post a sticky note on your desk or computer at work as a reminder to brush teeth after lunch. Brush teeth right after lunch, before you become absorbed in work. Store your toothbrush and toothpaste at work in a convenient and handy place. Make brushing your teeth part of your freshening up routine at work.

Sources:
Barbara Ann Rich, DDS, Cherry Hill, New Jersey;
Oral-B Laboratories; "Snack Smart for Healthy Teeth."

Facts on Flossing
Plaque is a sticky layer of material containing germs that accumulates on teeth, including places where toothbrushes can't reach. This can lead to gum disease. The best way to get rid of plaque is to brush and floss your teeth carefully every day. The toothbrush cleans the tops and sides of your teeth. Dental floss cleans in between them. Some people use waterpiks, but floss is the best choice.

Should I floss?
Yes. Floss removes plaque and debris that adhere to teeth and gums in between teeth, polishes tooth surfaces, and controls bad breath. Floss is the single most important weapon against plaque, perhaps more important than the toothbrush. Many people just don't spend enough time flossing or brushing and many have never been taught to floss or brush properly. When you visit your dentist or hygienist, ask to be shown.

Which type of floss should I use?
Dental floss comes in many forms: waxed and unwaxed, flavored and unflavored, wide and regular. Wide floss, or dental tape, may be helpful for people with a lot of bridgework. Tapes are usually recommended when the spaces between teeth are wide. They all clean and remove plaque about the same. Waxed floss might be easier to slide between tight teeth or tight restorations. However, the unwaxed floss makes a squeaking sound to let you know your teeth are clean. Bonded unwaxed floss does not fray as easily as regular unwaxed floss, but does tear more than waxed floss.

How should I floss?
There are two flossing methods: the spool method and the loop method. The spool method is suited for those with manual dexterity. Take an 18-inch piece of floss and wind the bulk of the floss lightly around the middle finger. (Don't cut off your finger's circulation!)

Wind the rest of the floss similarly around the same finger of the opposite hand. This finger takes up the floss as it becomes soiled or frayed. Maneuver the floss between teeth with your index fingers and thumbs. Don't pull it down hard against your gums or you will hurt them. Don't rub it side to side as if you're shining shoes. Bring the floss up and down several times forming a "C" shape around the tooth being sure to go below the gum line.

The loop method is suited for children or adults with less nimble hands, poor muscular coordination or arthritis. Take an 18-inch piece of floss and make it into a circle. Tie it securely with three knots. Place all of the fingers, except the thumb, within the loop. Use your index fingers to guide the floss through the lower teeth, and use your thumbs to guide the floss through the upper teeth, going below the gumline forming a "C" on the side of the tooth.

How often should I floss?
At least once a day. To give your teeth a good flossing, spend at least two or three minutes.

What about floss holders?
You may prefer a prethreaded flosser or floss holder, which often looks like a little hacksaw. Flossers are handy for people with limited dexterity, for those who are just beginning to floss, or for caretakers who are flossing someone else's teeth.

Is it safe to use toothpicks?
In a pinch, toothpicks are effective at removing food between teeth, but for daily cleaning of plaque between teeth, floss is recommended. Toothpicks come round and flat, narrow and thick. When you use a toothpick, don't press too hard as you can break off the end and lodge it in your gums.

Do I need a waterpick (irrigating device)?
Don't use waterpicks as a substitute for toothbrushing and flossing. But they are effective around orthodontic braces that retain food in areas a toothbrush cannot reach. However, they do not remove plaque. Waterpicks are frequently recommended for persons with gum disease when recommended by your dentist. Solutions containing antibacterial agents like chlorhexidine or tetracycline, available through a dentist's prescription, can be added to the reservoir.

Your child's first dental visit
When should your child first see a dentist, and why? The ideal time is six months after your child's first (primary) teeth erupt. This timeframe is a perfect opportunity for the dentist to carefully examine the development of your child's mouth. Because dental problems often start early, the sooner the visit the better. To safeguard against problems such as baby bottle tooth decay, teething irritations, gum disease, and prolonged thumb-sucking, the dentist can provide or recommend special preventive care.

How do I prepare my child and myself for the visit?
Before the visit, ask the dentist about the procedures of the first appointment so there are no surprises. Plan a course of action for either reaction your child may exhibit -cooperative or non-cooperative. Very young children may be fussy and not sit still. Talk to your child about what to expect, and build excitement as well as understanding about the upcoming visit. Bring with you to the appointment any records of your child's complete medical history.

What will happen on the first visit?
Many first visits are nothing more than introductory icebreakers to acquaint your child with the dentist and the practice. If the child is frightened, uncomfortable or non-cooperative, a rescheduling may be necessary. Patience and calm on the part of the parent and reassuring communication with your child are very important in these instances. Short, successive visits are meant to build the child's trust in the dentist and the dental office, and can prove invaluable if your child needs to be treated later for any dental problem.

Child appointments should always be scheduled earlier in the day, when your child is alert and fresh. For children under 24-36 months, the parent may need to sit in the dental chair and hold the child during the examination. Also, parents may be asked to wait in the reception area so a relationship can be built between your child and the dentist. If the child is compliant, the first session often lasts between 15-30 minutes and may include the following, depending on age:

A gentle but thorough examination of the teeth, jaw, bite, gums and oral tissues to monitor growth and development and observe any problem areas;
If indicated, a gentle cleaning, which includes polishing teeth and removing any plaque, tartar build-up and stains;
X-rays;
A demonstration on proper home cleaning;
Assessment of the need for fluoride.
The dentist should be able to answer any questions you have and try to make you and your child feel comfortable throughout the visit. The entire dental team and the office should provide a relaxed, non-threatening environment for your child.

When should the next visit be?
Children, like adults, should see the dentist every six months. Some dentists may schedule interim visits for every 3 months when the child is very young to build up a comfort and confidence level, or to treat a developing problem.

How do I find a good dentist for my child?
Many general dentists treat children. If yours does not, ask for a referral to a good dentist in your area. A word-of-mouth recommendation from a friend or family member can also yield the name of a quality dentist.

Five ways to protect your child's oral health at home
Parents typically provide oral hygiene care until the child is old enough to take personal responsibility for the daily dental health routine of brushing and flossing. A proper regimen of home preventive care is important from the day your child is born.

1. Clean your infant's gums with a clean, damp cloth. Ask your dentist if you may rub a tiny dab of toothpaste on the gums.

2. As soon as the first teeth come in, begin brushing them with a small, soft-bristled toothbrush and a pea-sized dab of fluoride toothpaste. Remember, most children are also getting fluoride from the community water supply.

3. To avoid baby bottle tooth decay and teeth misalignment due to sucking, try to wean your child off of the breast and bottle by one year of age, and monitor excessive sucking of pacifiers, fingers and
thumbs. Never give your child a bottle of milk, juice or sweetened liquid as a pacifier at naptime or bedtime.

4. Help a young child brush at night - the most important time to brush, due to lower salivary flow and higher susceptibility to cavities and plaque. Perhaps let the child brush his teeth first to build self-confidence, then the parent can follow up to ensure that all plaque is removed. Usually by age 5 or so, the child can learn to brush his or her own teeth with proper parental instruction.

5. The best way to teach a child how to brush is to lead by good example. Allowing your child to watch you brush your teeth teaches the importance of good oral hygiene.

Sources:
Peter G. Sturm, DDS, MAGD, Cranbury, NJ;
Kevin Boyd, DDS, University of Chicago;
Mario Gildone, DDS, Reno, NV;
June Owens, DDS, MScD, Nashville, TN;
B.J. Mistry, DDS, Tarrytown, NY;
Allan R. Pike, DDS, MS, Portland, OR;
American Academy of Pediatric Dentistry.

What are sealants?
A dental sealant is a thin plastic film painted on the chewing surfaces of molars and premolars (the teeth directly in front of the molars). Sealants have been shown to be highly effective in the prevention of cavities. They were developed through dental research in the 1950s and first became available commercially in the early 1970s. The first sealant was accepted by the American Dental Association Council on Dental Therapeutics in 1972.

How effective are sealants?
Scientific studies have proven that properly applied sealants are 100 percent effective in protecting the tooth surfaces from caries. Because sealants act as a physical barrier to decay, protection is determined by the sealants' ability to adhere to the tooth. As long as the sealant remains intact, small food particles and bacteria that cause cavities cannot penetrate through or around a sealant. In fact, research has shown that sealants actually stop cavities when placed on top of a slightly decayed tooth by sealing off the supply of nutrients to the bacteria that causes a cavity. Sealant protection is reduced or lost when part or all of the bond between the tooth and sealant is broken. However, clinical studies have shown that teeth that have lost sealants are no more susceptible to tooth decay than teeth that were never sealed.

How are sealants applied?
Sealant application involves cleaning the surface of the tooth and rinsing the surface to remove all traces of the cleaning agent. An etching solution or gel is applied to the enamel surface of the tooth, including the pits and grooves. After 15 seconds, the solution is thoroughly rinsed away with water. After the site is dried, the sealant material is applied and allowed to harden by using a special curing light. Other sealants are applied and allowed to harden much the same way nail polish is applied to fingernails. Sealant treatment is painless and could take anywhere from five to 45 minutes to apply, depending on how many teeth need to be sealed. Sealants must be applied properly for good retention.

How long will a sealant last?
Sealants should last five years, but can last as long as 10 years. One study reported that seven years after application, an impressive 49 percent of treated teeth were still completely covered. Sealants should not be considered permanent. Regular dental check-ups are necessary to monitor the sealants' bond to the tooth.

Who should receive sealant treatment?
Children, because they have newly erupted, permanent teeth, receive the greatest benefit from sealants. The chewing surfaces of a child's teeth are most susceptible to cavities and the least benefitted by fluoride. Surveys show that approximately two-thirds of all cavities occur in the narrow pits and grooves of a child's newly erupted teeth because food particles and bacteria cannot be cleaned out. Other patients also can benefit from sealant placement, such as those who have existing pits and grooves susceptible to decay. Research has shown that almost everybody has a 95 percent chance of eventually experiencing cavities in the pits and grooves of their teeth.

SOURCES: American Dental Association; The National Institute of Dental Research; Leslie V. Margens, DDS, MPH, Professor and Chair of the Department of Health Ecology, School of Dentistry, University of Minnesota, Minneapolis; Leonard Cohen, DDS, MpH, MS, Associate Professor and Chair of the Department of Education and Instructional Resources, Baltimore College of Dental Surgery, University of Maryland at Baltimore.

Dental Amalgams (fillings)

What is dental amalgam?
Most people recognize dental amalgams as silver fillings. Dental amalgam is a mixture of mercury, and an alloy of silver, tin and copper. Mercury makes up about 45-50 percent of the compound. Mercury is used to bind the metals together and to provide a strong, hard durable filling. After years of research, mercury has been found to be the only element that will bind these metals together in such a way that can be easily manipulated into a tooth cavity.

Is mercury in dental amalgam safe?
Mercury in dental amalgam is not poisonous. When mercury is combined with other materials in dental amalgam, its chemical nature changes, so it is essentially harmless. The amount released in the mouth under the pressure of chewing and grinding is extremely
small and no cause for alarm. In fact, it is less than what patients are exposed to in food, air and water.

Ongoing scientific studies conducted over the past 100 years continue to prove that amalgam is not harmful. Claims of diseases caused by mercury in amalgam are anecdotal, as are claims of miraculous cures achieved by removing amalgam. These claims have not been proven scientifically.

Why do dentists use dental amalgams?
Dental amalgam has withstood the test of time, which is why it is the material of choice. It has a 150-year proven track record and is still one of the safest, durable and least expensive materials to a fill a cavity. It is estimated that more than 1 billion amalgam restorations (fillings) are placed annually. Dentists use dental amalgams because it is easier to work with than other alternatives. Some patients prefer dental amalgam to other alternatives because of its safety, cost-effectiveness, and ability to be placed in the tooth cavity quickly.

Why don't dentists use alternatives to amalgam?
Alternatives to amalgam, such as cast gold restorations, porcelain, and composite resins are more costly. Gold and porcelain restorations take longer to make and can require two appointments. Composite resins, or white fillings, are esthetically appealing, but require a longer time to place the restoration. It should also be known that these materials, with the exception of gold, are not as durable as amalgam.

What about patients allergic to mercury?
The incidence of allergy to mercury is far less than one percent of the population. People suspected of having an allergy to mercury should receive tests by qualified physicians, and, when necessary, seek appropriate alternatives. Should patients have amalgam removed? No. To do so, without need, would result in unnecessary expense, and potential injury to teeth.

Are staff occupationally exposed?
Dentists are using pre-mixed capsules, which reduce the chance of mercury spills. And newer, more advanced dental amalgams are containing smaller amounts of mercury than before. An interesting factor can be brought into this: Because dental staff are exposed to mercury more often, one would expect dental personnel to have higher rates of neurological diseases, such as multiple sclerosis. They do not.

What are other sources of mercury?
Mercury can be found in air, food, and water. We are exposed to higher levels of mercury from these sources than from a mouthful of amalgam.

Sources:
Much of this information was received from Jack Mitchem, DMD, professor of dental materials at Oregon Health Sciences University Dental School and past chairman of the American Dental Association Council on Dental Materials, Instruments and Equipment.

AGD Impact thanks Recall, the Oregon AGD newsletter, which also contributed to portions of this fact sheet.