Dr. Tooth and Associates
123 Main Street
Anytown, NY 20317
USA
(212) 555-4321
(212) 555-1234 fax

Send Us

E-mail

© Copyright 2011
Dr. Tooth and Associates
powered by Website2Go.com
All Rights Reserved




You are here: Home > Meet Our Dentists






No More Cavities, D.D.S.
Dr. No More Cavities received his D.D.S. from Yale Dental School in
1983. Five years later, he went on to receive his Doctorate in Microbiology from the University of Connecticut. He serves on the faculty of Anytown State University and is a frequent lecturer to the NY Dental Society. He is a member of the American Dental Association and a fellow of the American College of Dental Surgeons. He founded the practice in his hometown of Anytown in 1990. An avid fisherman, Dr. No More also enjoys hang gliding with his wife, Irma, and three children.







Brighten Your Smile, D.D.S.
Dr. Brighten Your Smile believes in forming a true partnership with each of her patients to promote open communication and encourage
good preventive care.

You will like her honest, open, friendly way of talking with you and listening to your concerns. A graduate of the University of Hawaii, Dr. Smile received his D.D.S. from the University of Idaho Dental School in 1985. She was one of only 4 postgraduates to receive the Dentine Fellowship and she went on to study for 2 years, developing a specialty in Endodontic Therapy. Dr. Smile is a member of the American Dental Association. This is her ninth year with the practice.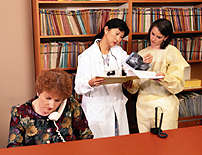 And Associates